Dr. Kevin Huelsman and Dr. Connor Huelsman:
Your Trusted Dentist in Worthington, Ohio
Welcome to the dental practice of Dr. Kevin Huelsman, your trusted dentist in Worthington, Ohio. We're not just about brightening smiles; we're committed to elevating your entire well-being through comprehensive dental care. Whether you're here for a routine check-up or exploring advanced cosmetic options, you're in expert hands.
Don't wait to achieve the radiant smile you've always wanted –– schedule your appointment today.
Dr. Huelsman: Reasons Why He's The "Worthington Dentist"
When it comes to dental care, you deserve nothing but the best, and that's exactly what we offer at Dr. Kevin Huelsman's practice in Worthington, Ohio. Our state-of-the-art facility is equipped with the latest dental technology, ensuring you receive the most advanced treatments. However, what truly sets us apart is the "Huelsman Difference" –– a unique blend of professional expertise, personalized care, and a warm, welcoming environment.
So, by choosing us for your dental needs, you're not just getting exceptional care –– you're becoming part of a dental family that prioritizes your health and happiness.
Comprehensive Dental Services in Worthington, Ohio
Dr. Huelsman offers a full spectrum of dental services to cater to all your oral health needs. Worthington residents and surrounding communities can now address their dental concerns at our convenient location, from preventive measures to restorative solutions.
Regular Check-ups: Regular dental visits are crucial for maintaining optimal oral health. They allow us to catch issues early and provide timely treatment, ensuring your smile stays bright and healthy.
Periodontal Maintenance: Gum health is often overlooked but vital for oral well-being. Our periodontal maintenance program includes deep cleaning and regular check-ups to prevent gum disease.
Extractions: Whether it's a wisdom tooth causing discomfort or a damaged tooth, our extraction procedures are safe, quick, and pain-free.
Teeth Whitening: Professional teeth whitening is a safe and effective way to rejuvenate your smile, ensuring you radiate confidence with every beam.  
Dental Bonding: Dental bonding is a cost-effective way to improve the appearance of chipped, discolored, or gapped teeth. The procedure is quick and offers immediate results.
Teeth Bonding: Similar to dental bonding but focuses on minor cosmetic issues. It's a quick and affordable way to enhance your smile.
Our childrens dental services are designed to make dental visits fun and educational, setting the foundation for a lifetime of good oral health.
Meet The Best Dentists in Worthington, Ohio
Dr. Kevin Huelsman is more than just a dentist; he's a trusted healthcare partner committed to enriching the lives of his patients in Worthington, Ohio. With a Doctorate in Dental Surgery and numerous accolades, Dr. Huelsman brings a wealth of expertise and a patient-centric philosophy to his practice.
His approach to patient care goes beyond technical proficiency. Dr. Huelsman adopts a holistic approach to dental care, understanding that oral health is interconnected with overall well-being. By choosing Dr. Kevin Huelsman as your dentist, you're not just getting a dental expert but a healthcare partner committed to your overall well-being.
With his dynamic approach and dedication to dental excellence, Dr. Connor Huelsman has been a pivotal addition to our clinic. In an ever-evolving field like dentistry, staying updated with the latest techniques and practices is crucial. Dr. Connor Huelsman's commitment to modern dental practices ensures that patients receive treatments that are not only effective but also align with the latest dental standards.
Dr. Connor's contributions not only enhance our services but also fortify the legacy of dental care the clinic stands for.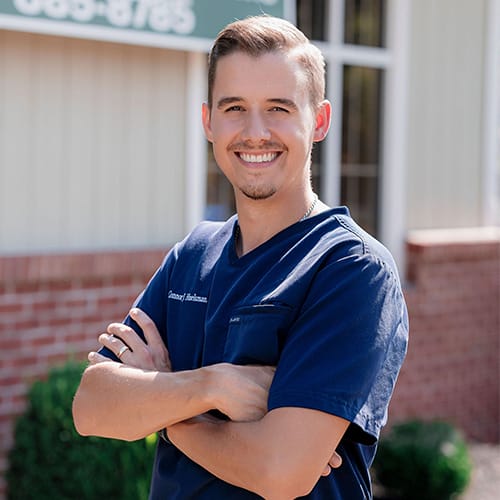 Experience the Huelsman Difference Today
When finding a dentist in Worthington, Ohio, look no further than Dr. Kevin Huelsman. With Dr. Connor Huelsman and the rest of the team, Dr. Kevin gives you peace of mind that you'll receive the highest quality dental care. Schedule your appointment today to experience the Huelsman difference and enjoy a healthier, brighter smile.
PATIENT REVIEWS MEAN A LOT TO US
Dr Huelsman in the best! Great staff, accomodating, efficient and professional. He has been our family dentist for years and wouldn't think of going anywhere else..